First Congregational Church, celebrating 300 years of faithful service, 1717-2017
The New Milford Historical Society joins the town of New Milford in celebrating the 300th anniversary of the First Congregational Church, 1717 - 2017.


The New Milford Historical Society was awarded a $10,000 grant from Iroquois Pipeline Operating Company Community Grant Program for the renovation of the Main Gallery. This project included removing the panels from the windows (to allow natural light in), installing UV filters and shades on the windows, painting the walls, installing new flooring and updating our lighting. This face lift was long overdue.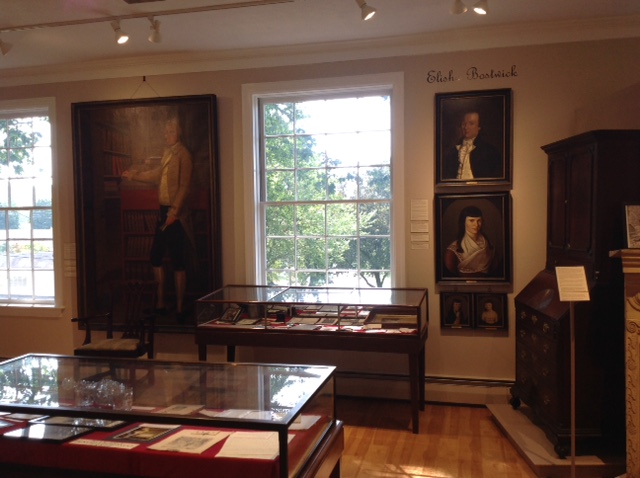 The Main Gallery was built in in 1963 for the museum by well known architect Edgar I. Williams. The large brick building was deigned with a large open gallery space that is approximately 910 square feet to exhibit the collection of antique furniture and decorative items from the homes of New Milford residents as early as the 18th century. It also displays New Milford's early landscapes and portraits of our town's founding father's by important artists.


The New Milford Historical Society & Museum
has both permanent and temporary exhibits on view at the Society, located just north of the historic and scenic New Milford Green at N° 6, Aspetuck Avenue.
Our hours are Tuesday - Friday from 12:00 - 3:00 and Sunday 12 - 3 or by appointment, (
click here
to request yours, or call (860) 354-3069).
Winter is also the season of bad and unpredictable weather in New England. In case of inclement weather, please plan on calling the museum to confirm we are open. 
Our permanent collection
, housed in the New Milford Room, features exhibits on the following subjects:
Business and Commerce in New Milford in the 20th Century
Black Life in the History of New Milford: A Perspective of 150 Years
The Life and Times of Roger Sherman
New Milford Pottery
(also known as
Wannopee Pottery Co
.)
Tobacco Farming in New Milford
New Milford's Pre-Colonial Peoples
Our past exhibits
, have included the following:
Lost Arts of Domestic Life
Art in Bloom
150 years of the Water Witch Hose Company N° 2
Our online exhibits
include the following:
New Milford's Historic Schoolhouses
The Timeline of New Milford's History
Suggested admission is $5 for adults, $2 for students, and children under 5 are free, as are
members
.